"Anything's possible."
Artemi Panarin kept it short and sweet at his Blue Jackets media availability on Thursday, where he answered a handful of questions from reporters about, well, where in the world (maybe literally) his mind been this summer.
The spotlight was certainly on Sergei Bobrovsky and Artemi Panarin, the two biggest stars on the team, who also both conveniently have one year remaining on their contracts.
The answers to those questions didn't come before a personal statement given by Panarin, though (Courtesy of Twitter's Leez Meero):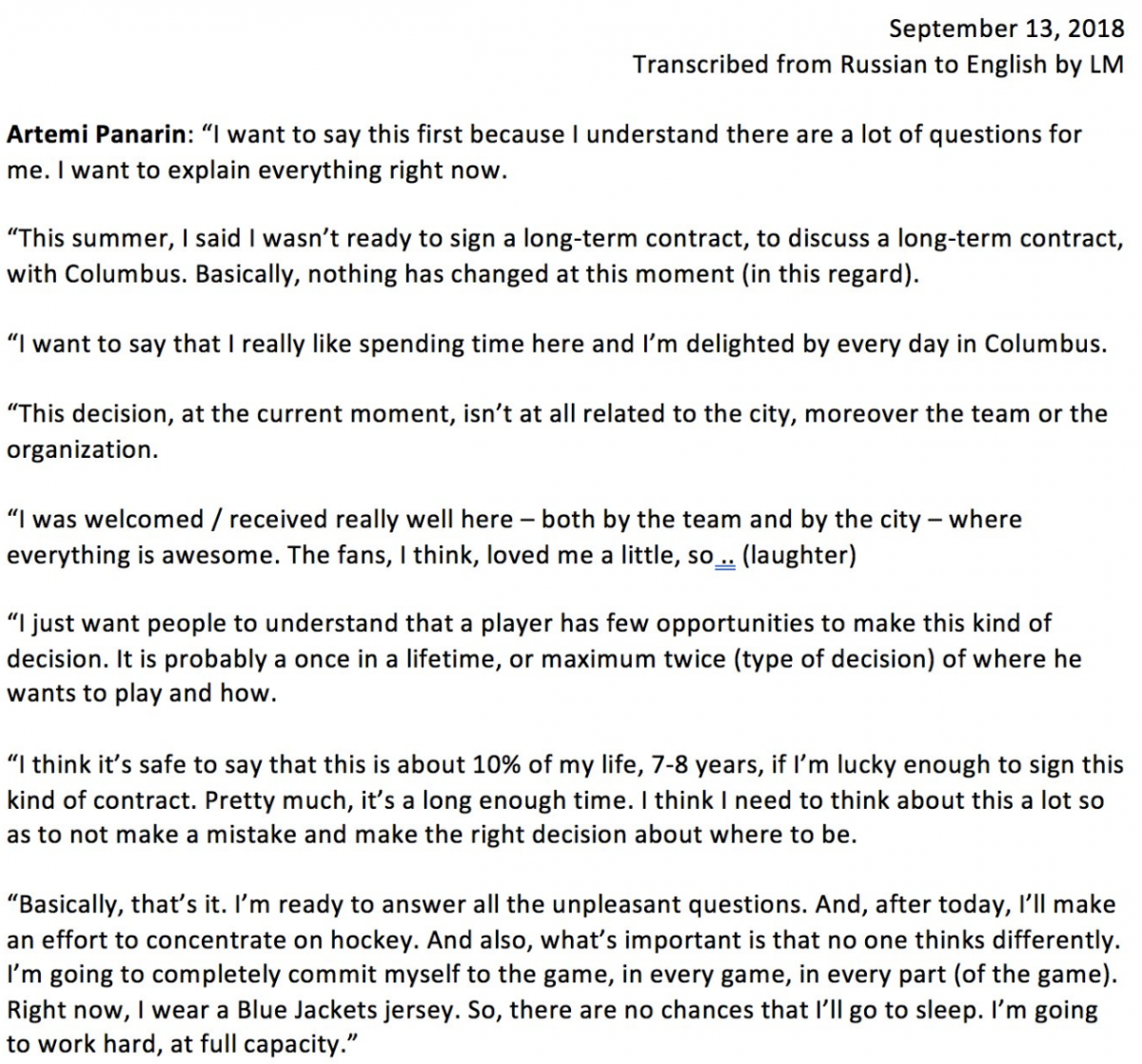 Panarin's statement was as clean and safe as could be - he addressed the fan support, gave subtle interest in wanting to potentially remain in Columbus, and validated his focus being on playing for the Jackets in the immediate.
Then, came the reporters. Here's our transcript of the questions asked by different members of the Blue Jackets media, and Panarin's responses. Panarin's translator, Vlad, would ask Panarin the question in Russian and then give the summarized answer. It's important to note that Vlad is obviously not able to capture the exact word-for-word phrasing from his client.
Panarin himself also chimed in with a few answers of his own, with the English that he knows.
---
Reporter: "The fans have been great to you, you've been great to the fans, is it something about the size of the city, that maybe has you thinking you want to look elsewhere?"
Vlad: "There's really no issue with Columbus, he loves it here, everything about Columbus is great, he's lived in various cities, so Columbus is definitely one of the cities he's enjoyed. but it's a huge decision and you need to take the time to make that decision. and again, he's focusing on hockey right now."
Vlad: "The potential next contract would be long term possibly, so in any situation you have to think about the future, so there's certainly a lot to think about, and it's going to take time to think about that."
"Is there any chance you may change your mind and decide this is where you want to be long term?"
Panarin: "Anything's possible".
Vlad: "He wishes he could tell you guys some kind of answer, but really there's a whole year left of hockey to play, so really, he's just focusing on that."
"Are you continuing negotiations, or is there a deadline?"
Vlad: "They talked all summer, everyone has conversations, but today is the 13th, today is the deadline and really today is just a day where it's all hockey now, it's all about playing hockey now, and doing what Artemi does best."
Vlad: "He's giving management a whole year by telling them that he's really not sure. by doing so we believe that if anything, he's done a favor by letting them know in advance, so they can do whatever they need to do that's best for the organization, with a whole year of saying "he's not sure"."
"Is he worried about that being a distraction?"
Vlad: "He's not worried about that stuff right now."
Reporter: "How does he address it with his teammates and being in the locker room?"
Vlad: "They're just making jokes."
Panarin: "Foligno, every time."
Reporter: "Does this deadline mean he's no longer talking to management here?"
Vlad: "He's under contract right now so he doesn't really have a whole lot of options in terms of what he does. One year is what he has left, and he's just playing that year right now."
Vlad: "There's just so much that he really can't control right now. So, he's just worrying about what he can control, and that's playing hockey, and being the best player he can be for the team."
"Do you have any sense of what your reception might be from Blue Jackets fans since this story emerged this summer?"
Vlad: "He's just hoping that the fans are going to be happy towards him. He's on the team right now, we can't really talk about what's going to happen "if"; he's just hoping right now the fans are going to continue to be loyal."
"It's been said you're interested in playing in a big city, a coastal city, ocean side city, is that accurate, is there any city you're drawn to?"
Panarin: "No."
Vlad: "There's really not a whole lot to say to that."
Panarin: "No speak English." (laughing)
Vlad: "There's really nothing right now. He hasn't even started thinking about cities. It's as simple as that. I can keep saying it, we're in training camp here, the seasons about to start, he's a hockey player, the whole thought process now is on hockey."
"Have you talked to Bob about the situation, his contract situation?"
Vlad: "They're arguing, they haven't talked in three months." (joking)
Vlad: "You don't talk to goalies, you let them do their thing."
"How excited are you to get back here and get this thing going?"
Vlad: "He can't wait. he can't wait to play. just being back here, seeing all the players, it's so exciting seeing the players ready to go, he's just so excited and he's hoping the fans are just excited."
"There's always the situation of a trade happening, but what you like to play the whole season out and go for a Cup with these guys?"
Panarin: "Yes."
"I know you had a knee injury in the playoffs, are you 100%?"
Panarin: "Yes. 120%."
"What are your teammates doing to entice you to stay in Columbus, what are they saying, and who is going after you particularly?"
Vlad: "He knows pretty much the whole team wants him here. they love him, he loves them. it's that simple. I don't think they've been here very long in terms of training camp, but just from the last couple days, he's definitely received some love from the players."
"What are the things that are important to you when think long-term (team, location, feel money)?"
Vlad: "It's not about really money. he wants everyone in his life to be healthy and happy. Same for him, he wants to be happy and live a happy life, that's pretty much the first priority in his life is being happy and being around the people he loves."
"He hasn't blocked out the possibility of coming back?"
Vlad: "Yeah, he's obviously thinking about that for sure. He's considering everything."
Follow 1st Ohio BatteryFacebook, Twitter, Instagram and YouTube