Is that a light at the end of the tunnel, we see?
A proposal of the continuation for the currently suspended NHL season (due to the COVID-19 outbreak) and a plan for the next season have been put together by several prominent players, and a league governor, according to TSN Hockey.
"Some of the best players in the NHL, think Hart-Trophy and Conn-Smythe-caliber players, have been kicking around some ideas in some group chats," said Frank Seravalli, senior hockey reporter at TSN Sports, on a segment of Insider Trading on Tuesday night.
According to Seravalli, the idea that these players have proposed is to open training camp at some point in July, and then move into regular season games immediately after, with the games being potentially enough to formulate the playoff seeding, have enough teams play the same number of contests, and give a warmup for the teams entering the postseason.
This would mean the playoffs would kick off in early August and see a Stanley Cup winner awarded in late September, and then, with no time to waste, they move right into the next events.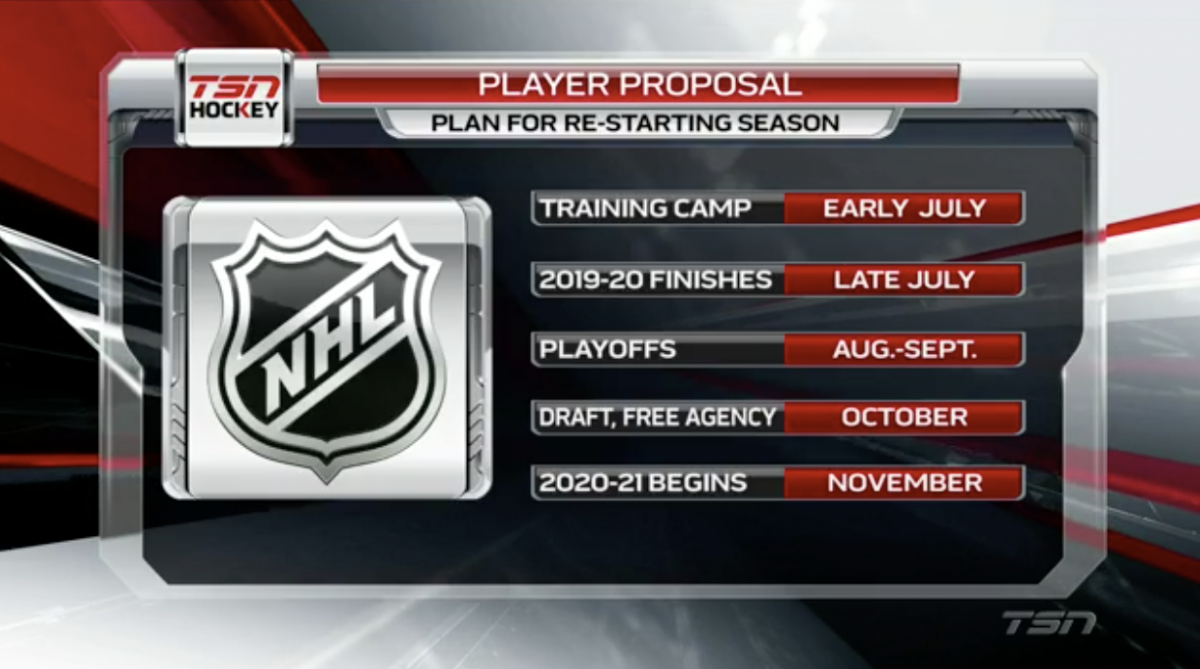 "(The NHL would then) begin a 3-4 week transition period in which you conduct the draft and free agency in October, followed by the start of a full 82-game regular season, that would, of course, be on a condensed schedule, starting then in November," continued Seravalli.
These players are "following along with the rest of the health experts", understanding it may not be until July or August that we begin to see COVID-19 really have enough people recover and build up immunity. So, in these uncertain times, the players are looking for some certainty, resulting in the proposal made.
Seravalli confirmed this is something that is making its way to the NHL Players' Association, and at that point, they're hoping they could propose this type of plan this to the NHL.
Pierre Lebrun, Hockey Insider at TSN, added that the league has already heard a version of this proposal by way of an unnamed NHL governor directly to Commissioner Gary Bettman.
Again, many eyes would need to see and be a part of the approval process of a proposal like this, or anything similar to it, before it is signed, sealed and delivered, but the fact that it is in the works is something to be excited about. This all could change in a matter of days, weeks or months depending on the development of the virus, obviously, but why not get an early start on the next steps?
Follow 1st Ohio BatteryFacebook, Twitter, Instagram and YouTube