For the second time in his career, Columbus Blue Jackets captain Nick Foligno has been given Selke Trophy votes, an annual award named to a forward "who demonstrates the most skill in the defensive component of the game". The winner of the Selke Trophy is decided by a poll of the Professional Hockey Writers' Association.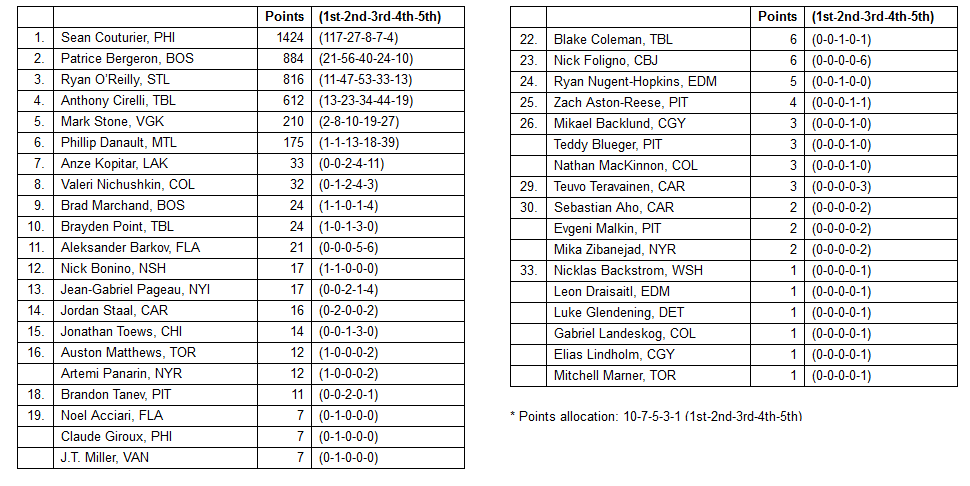 For a gritty, dad-strengthed veteran winger like Foligno, these six fifth-place votes don't come as a ginormous surprise, but when we compare it to where his play once was focused, it does feel like a bit of a different lifetime.
Six years ago, Foligno was coming off of a 73-point campaign where he scored 30 goals, led his team in points and was one of the NHL all-star game captains. These days, he is a second/third-line winger who operates as a formidable enforcer, gets dirty in the corners and plays lockdown defense. 
Foligno will still pull out the dangles here and there, but his game, as mentioned, is starting to find it's niche.
This past season, Foligno led his club in takeaways, was seventh in expected +/-, seventh in CF% (amongst forwards). He was also third amongst forwards in blocks and defensive point shares, and led the entire team in hits (212) by a large margin (129 was next closest).
Nearing the age of 33, Foligno has certainly seen his most skilled days behind him, but perhaps this a role better-suited for the veteran captain. Is a real shot at a Selke Trophy in the future for the Buffalo product?