The Columbus Blue Jackets are finishing out the string with 21 games to go in the regular season.
As disappointing as the season has been on the ice, the team is currently playing some of its best hockey with points in six of its last seven games. This coincides with each player on the roster looking to finish strong, and as you can imagine, there are quite a number of them who can really use it.
We take a look at those players in particular that need to step up their game down the stretch and next season.
Or just simply avoid the injury bug.
Speaking of that, the Blue Jackets have once again been very injured this season. Call it bad luck, it's certainly not the first time we've seen them battle the injury bug to the extent they have this year.
Just like that, the Blue Jackets are down to three injured players, so their fewest since Game 11

— NHLInjuryViz (@NHLInjuryViz) March 2, 2023
Patrik Laine
AAV: $8.7 million per year through 2025-26
Cap Hit: $8.7 million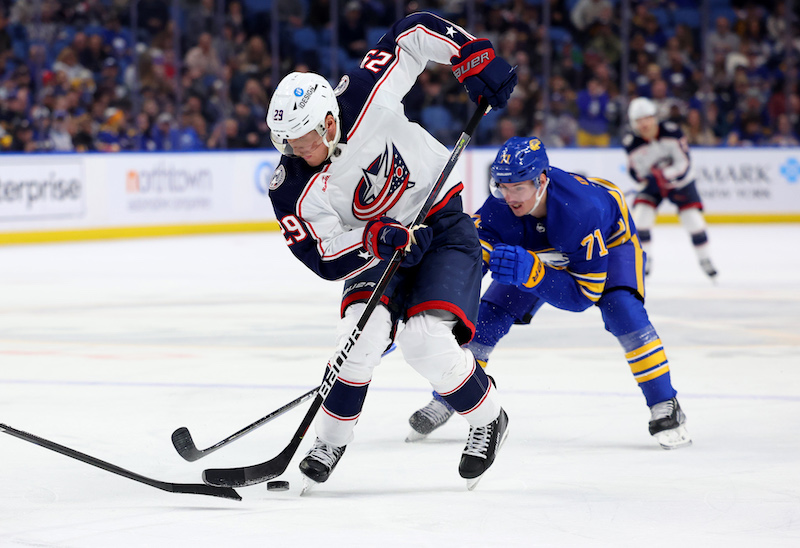 Signed to a four-year extension last summer, Laine (39––17-22) has dealt with injury for the second straight season in Columbus. Though he's second on the team in points and goals, and third in assists, Laine has much more to offer offensively. We know what he can do when he's hot and the goals come in bunches. We're still waiting for one of those streaks this year. 
Consider this: Kirill Marchenko and Laine are 1-2 on the team in goals/60. Marchenko is at 1.3 while Laine is at 1.06. Marchenko has played only eight fewer games than Laine has this season.
Jack Roslovic
AAV: $4 million per year through 2023-24
Cap Hit: $4 million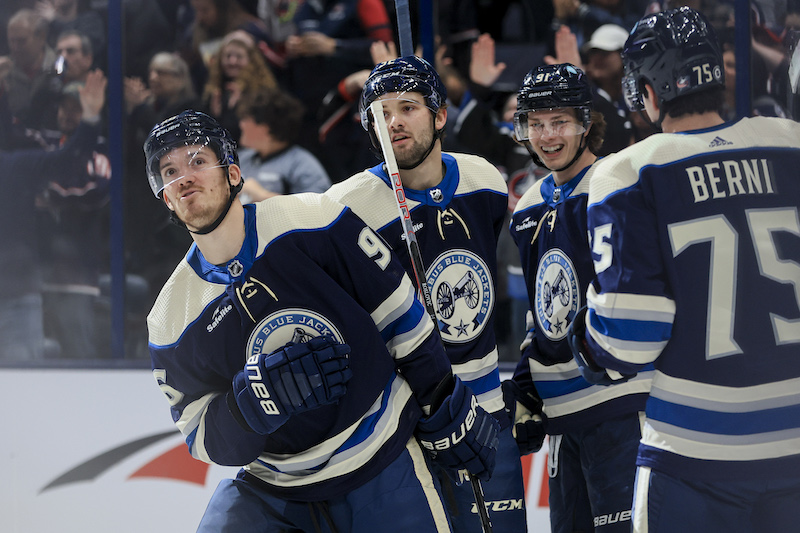 Roslovic (34––6-28) signed a two-year extension last summer and hasn't generated much in the goal-scoring department. Yet, he finds himself second on the team with a career-high 28 helpers and is fourth in points. He only needs 11 points to break last season's career-high of 45. Roslovic leads the Jackets with 13 primary assists and is leading the team with 1.73 total assists per 60 and 1.13 first assists per 60. He's third with 1.99 total points per 60. Overall, however, his season feels underwhelming considering what else he has the potential to provide offensively.
Consider this: Among players who have played at least 600 minutes this season, Roslovic trails only Laine in GA/60 this season. Roslovic (692:01) is at 2.69 while Laine (677:42) is at 2.48.
Cole Sillinger
AAV: $1.633 million per year through 2023-24
Cap Hit: $925,000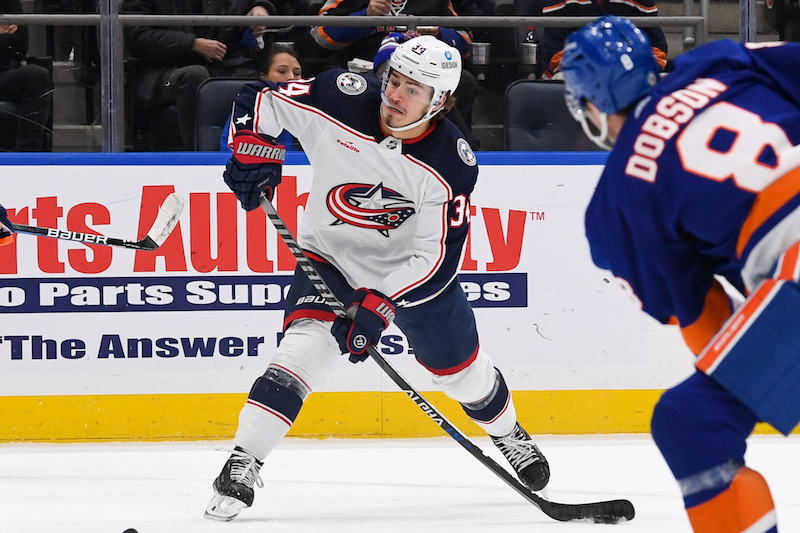 Sillinger's (8––2-6) offensive slump has been a storyline all season. He only has eight points through 55 games. But he's only 19 years old and has tremendous upside as he nears the close of his second NHL season. It's way too early to worry too much about Sillinger, but you really hope he regains the offensive touch he showed last season when he scored 31 points (16 goals, 15 assists) in 79 games. Last season, he was second on the team with 143 individual scoring chances and second with 55 individual high-danger chances. This season, Sillinger is fourth with 81 iSCF and fifth with 32 iHDCF.
Consider this: Among players who have played at least 600 minutes this season, Sillinger is fourth on the team with 2.82 xGA/60.
Yegor Chinakhov
AAV: $1.325 million per year through 2022-23
Cap Hit: $925,000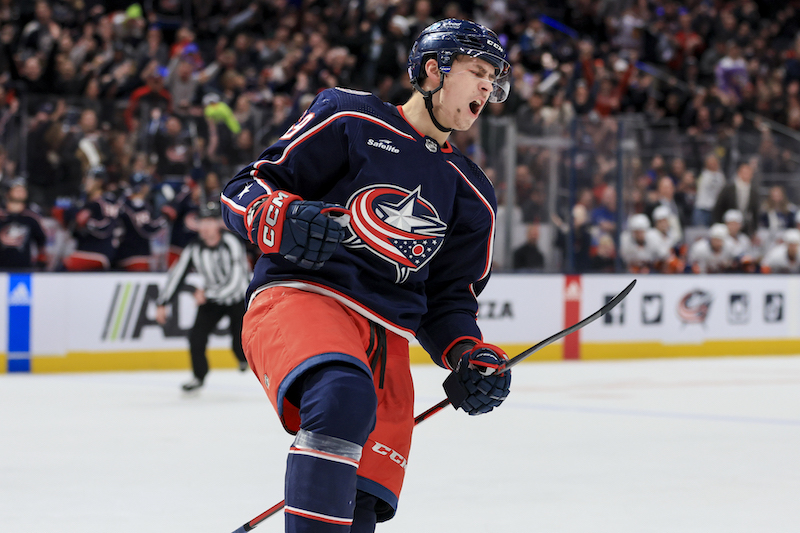 Chinakhov (13––4-9) has missed half of the season with an ankle injury and has played 92 of 143 games over the last season and a half for the Blue Jackets. Still only 22 years old, we're still waiting for a full, healthy, productive season as Chinakhov has only scored 27 points (11 goals, 16 assists) over two seasons so far. The good news is Chinakhov was activated off IR on Feb. 27 and sent to Cleveland and played in Wednesday's loss to the Syracuse Crunch in which he scored a power-play goal.
Consider this: In 30 NHL games this season, Chinakhov (348:28) has put up 1.55 total points/60.
Elvis Merzlikins
AAV: $5.4 million per year through 2026-27
Cap Hit: $5.4 million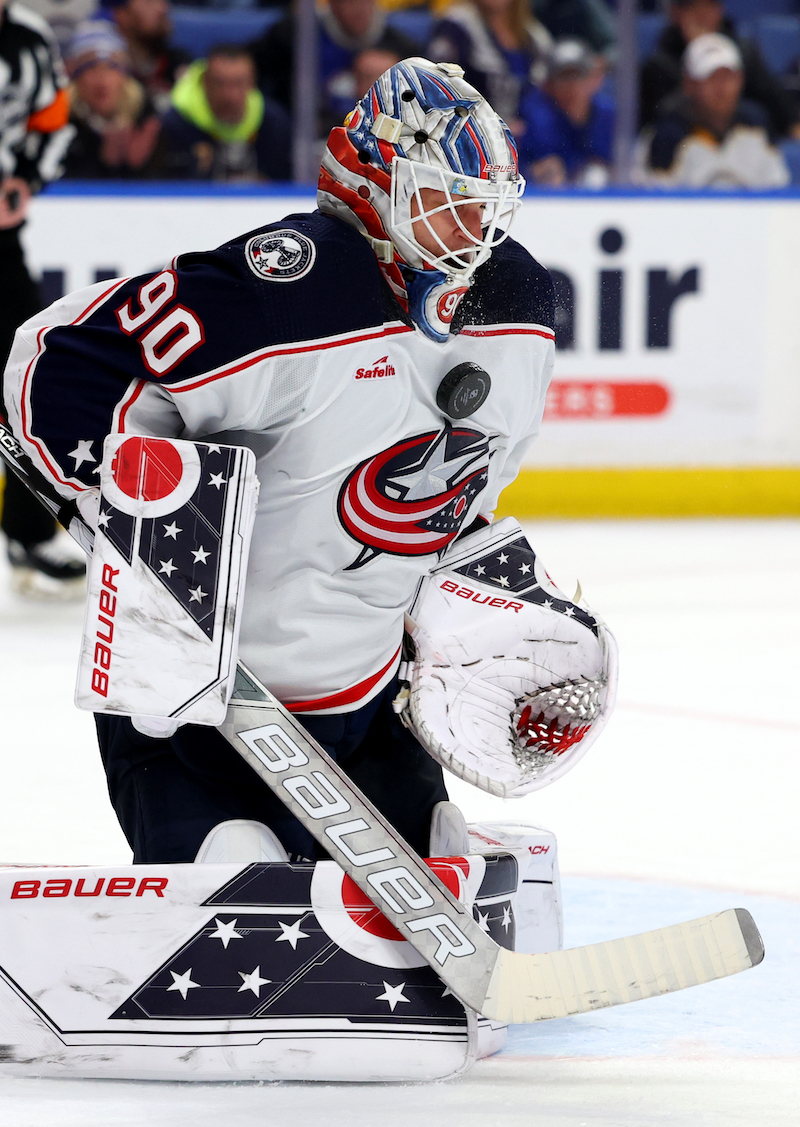 Merzlikins (7-15-2, .879, 4.10) hasn't had a great season to particularly write home about but fortunately for him and the club, he's started to turn it around over the last few weeks. The No. 1 guy on the depth chart throughout the rest of the season with Joonas Korpisalo shipped out west, Merzlikins has a chance to end the season playing his best hockey. The Blue Jackets are counting on him alongside, presumably, Daniil Tarasov next year. Merzlikins will be entering year two of his five-year deal in 2023-24. If Merzlikins struggles next season, it puts the Blue Jackets in a bind.
Consider this: Merzlikins has allowed exactly three goals in his last six consecutive starts dating back to Jan. 28. Over that span, he's 2-2-2, .911 SV%, 2.97 GAA.
Adam Boqvist
AAV: $2.6 million per year through 2024-25
Cap Hit: $2.6 million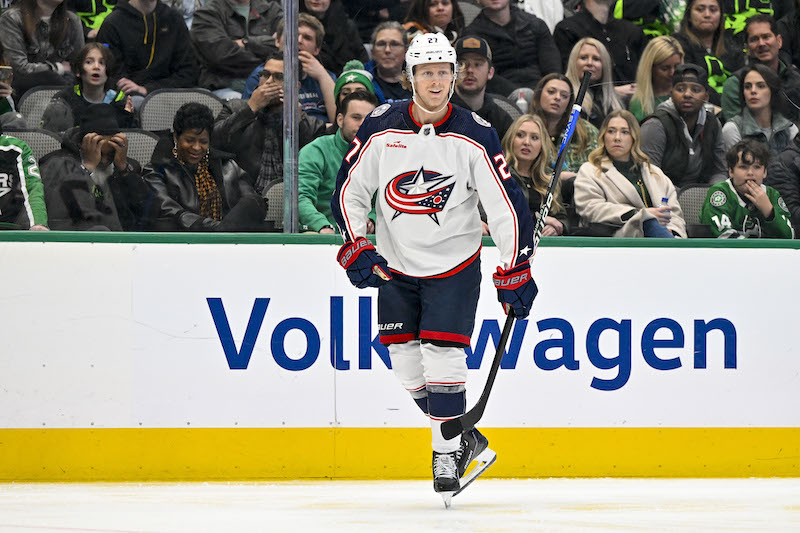 Boqvist (16––2-14) has played particularly strong of late with 15 points (two goals, 13 assists) since January, and has matched a career-high with 14 assists on the season. Six of those have come on the power play. But he has also missed a chunk of time due to injury. In fact, the most amount of games the 22-year-old has played across his four seasons so far is 52 games in 2021-22. Signed to a three-year contract extension before the season, the club would love to see the offensive prowess over the course of 82 games, while seeing his game on the defensive side of the puck continue to evolve.
Consider this: In 28 games this season, Boqvist (385:12) has registered 3.27 GF/60.
Zach Werenski
AAV: $9.583 million per year through 2027-28
Cap Hit: $9.583 million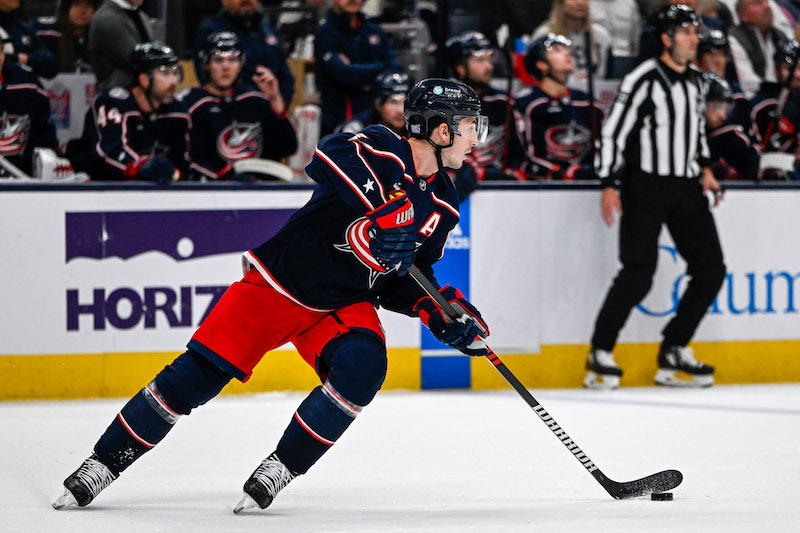 Werenski (8––3-5) is one of the best players on the team and is only on the list because of a separated shoulder and torn labrum that ended his season in November. The Blue Jackets' defense needs work and having a healthy locked and loaded Werenski back in play for next season will surely help across the board. Werenski signed a six-year deal in the summer of 2021 so he has five years left on the deal starting next year.
Consider this: The Blue Jackets' second-longest tenured player is Werenski (2016-17) after Boone Jenner (2013-14). Werenski is still only 25 years old.
All statistics via Natural Stat Trick 5v5, Hockey Reference, and NHL.com.
---
There is a slew of other players that have had opportunities in general over the past few seasons that have yet to either put it all together at the NHL level or are still trying to prove their value for the club in the long term.
Emil Bemstrom and Liam Foudy come to mind of late and there are also players including Trey Fix-Wolansky, Carson Meyer, and the list goes on. It remains to be seen what the off-season holds and what player movement looks like. But those looking to carve out a serious role certainly need to take hold of their opportunity before the next crop of prospects takes their place.
There's also Jake Bean whose season has been lost to a shoulder injury. Justin Danforth carved out a big role for himself last season, parlaying that success into a two-year extension. Then a torn labrum ended his season in October.
Could Jarmo Kekalainen make any more bold or surprising trades that shake the roster this summer?
It's certainly within his DNA.
What do you think about this list? Would you add, remove, or change any players?